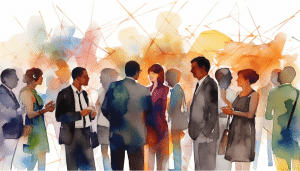 Actively participate and connect with others at the in-person main conference Natural Fibre Connect 2023 hosted in Biella, Italy – the centre for manufacturing precious animal fibres. Visit various mills, listen to live speakers and participate in workshops and panel discussions while also enjoying the beautiful surroundings, food, and drink of Northern Italy.
In-person as well as online Zoom event.
If you are planning to attend in-person, please be sure to book your travel and accomodation ahead of time. More information can be found here.
Cost in-person: 500 US$ + 22% VAT
Cost virtual: 50 US$ + 22% VAT
Important Notice Regarding Event Registrations
We'd like to clarify that registering for the NFC conference does not automatically enroll you in all other associated sessions, such as the Textile Exchange Round Table or the European Animal Fibre Round Table. Each event requires a separate registration. We've noticed some attendees assume that signing up for the NFC conference grants access to all associated sessions, but this is not the case. For organisational purposes, it is helpful if you can sign up for all the sessions you are interested in participating in by adding the respective 'free' ticket to our registration.
If you're interested in attending the Textile Exchange Round Table or any other associated session, please ensure you register for each event individually. We apologize for any confusion and appreciate your understanding. If you have any questions or need further clarification, please don't hesitate to contact us.
Hourly Schedule
28 September 2023
29 September 2023
Altansukh Tumee

Bayntol Cashmere Herder Cooperative | Leader of the Herder Cooperative

The Bayantol Cooperative of Must Soum, Khovd Province, was founded in 2011 to increase the income of its members through service, as well as satisfy their social, cultural, and intellectual requirements.
The cooperative's vision is to support national production via cooperative labor. Every cooperative member will provide primary materials of animal production such as wool, cashmere, wool, and leather supply to Buriar LLC, MKY LLC, Uguuj Shim LLC, Jinst Murun LLC, Uran Ninj LL, and Darkhan Minj LLC every year.
We are expanding our cooperation with governmental and non-governmental organizations and international projects, taking the lead in socially beneficial activities, and sharing our experience with model cooperatives and other cooperatives in our province and sum.
It is a cooperative that has worked continuously with SFA since 2017 and participates actively in the training, evaluation, and certification of its member herders each year. Every household in the western region strives to improve the quality of cashmere, support herders with a small number of high-quality animals, create fodder reserves, and gather raw materials for livestock products as the ability of herders to cashmere production techniques improves year after year. Also, numerous significant initiatives, including the establishment of a training centre, are in progress.

Amit Gautam

Textile Genesis | Founder & CEO

Amit is the Founder and CEO of TextileGenesis. The vision of TextileGenesis is two-fold: creating radical transparency from fiber-to-retail for the apparel/fashion supply chain, and ensuring authenticity & provenance of sustainable textiles against generics. TextileGenesis™ is an industry-leading transparency platform and an outcome of intensive "grass-root" discussions with the entire apparel supply chain from fiber producers, fabric mills, dyeing houses, garment-maker, to retail brands.

Anna Heaton

Textile Exchange | Fiber and Materials Strategy Lead: Animal Materials

Anna Heaton has worked internationally on animal welfare and sustainable livestock management for over 15 years and is now the Fiber and Materials Strategy Lead for Animal Materials at Textile Exchange.

Before joining Textile Exchange Anna developed and helped implement numerous standards across a wide range of animal species for both the food and fashion sectors. Anna has also previously collaborated with Wildlife Friendly Enterprise Network on standards for wildlife friendly farming and tourism. In the UK Anna has a history of working directly with farmers and farmer groups on organic and regenerative land management.

Anna's role at Textile Exchange brings this experience together through work on the delivery of Textile Exchange's Climate+ strategy throughout the animal materials sector.

Antonio Giuliano

Control Union Italia srl | Managing Director

Sicilian by birth, after some globetrotting I ended up establishing my base in Rome. 3 daughters and, since one and a half year, the happy grandpa of a charming 50/50 italian/dutch little boy.

Since a very early stage I've been moved by a pure drive for sustainability. After 20 years into a multinational covering the role of local buyer and eurobuyer, I managed to be part, in the same multinational food company, of their sustainable sourcing team, where I've been engaged for 4 years into the conversion of several vegetables raw materials into sustainably sourced.

When Control Union, one of the most accredited Certification Bodies in sustainability programs, presented the opportunity, I could not refuse. Since 2014 I took the challenge of developing the Italian certifications and inspections business as Managing Director. In my company I am bringing passion for people development and my drive on taking a sustainable approach in all our personal and business choices.

Ayongxi

International Cooperation Committee on Animal Welfare (ICCAW) of China Association for the Promotion of International Agricultural Cooperation (CAPIAC) | Deputy Secretary-General of CAPIAC & Vice President of ICCAW

Mr. Ayongxi represented China as the liaison for the International Organization for Standardization (ISO) Animal Welfare Working Group. He engaged in the development of ISO's guidelines for animal welfare and participated in the final review of these guidelines, which was held in Paris. He was involved in the formulation of the first series of industry standards for animal welfare in China, covering welfare requirements for pigs, beef cattle, sheep, broiler chickens, and laying hens. And he is chairing the development of the China Group Standard for "Animal Welfare Requirements for Cashmere Goats".

As a member of the Chinese delegation, Mr. Ayongxi took part in the 7th Session of the Ad Hoc Codex Intergovernmental Task Force on Antimicrobial Resistance (TFAMR) held in Korea, and also took part in the 45th Session of the Codex Committee on Food Labelling (CCFL) held in Canada. Mr. Ayongxi is serving as deputy coordinator of the Chinese part of Europe-China cooperative project: Healthy Livestock: Tackling Antimicrobial Resistance through Improved Livestock Health & Welfare.

Carlo Murer

FAO Mountain Partnership

Dario Casalini

Slow Fiber | President of Slow Fiber network

Former Professor of Public law, CEO of maglificio Po and textile enterpreneur with knitwear brands Oscalito and Natyoural, Founder of Slow Fiber, Author of "Vestire buono, pulito e giusto", Slow Food editore, 2021

Dario will speak about 'Slow Fiber: good, healthy, clean, fair and durable textiles'
Slow Fiber was born from the meeting between Slow Food and some companies in the textile chain who want to represent Good industrial models that offer Beautiful, Healthy, Clean, Fair and Durable products, respecting the dignity of Human Beings and Nature to spread a new ethic and culture of dressing and furnishing.

David McElroy

Sustainable Fibre Alliance | Head of Standards

Get ready to join David McElroy, Head of Standards at the Sustainable Fibre Alliance (SFA), as he discusses the traceability of cashmere – exploring the many challenges and prospects – and shares exciting new updates on the SFA Cashmere Standard and Chain of Custody during NFC 2023 conference and pre-conference sessions.

With a PhD in Human Impacts Ecology and professional experience in changing behaviours, David strongly believes that we cannot protect nature without first understanding and meeting the needs of the people whose lives are tied to the natural world. He has developed a comprehensive understanding of voluntary sustainability standards systems and creating multi-stakeholder initiatives that work for everyone involved.

Dr. Igshaan Samuels

Agricultural Research Council | Specialist Scientist and Global Co-Chair of ISG for UN declared IYRP

We are delighted to announce Dr. Igshaan Samuels as a distinguished speaker and esteemed panel member for the upcoming session Regenerative Agriculture: Rangeland Stewardship Council.

Dr. Samuels, a visionary in rangeland ecology and pastoralism, holds a PhD in Botany from the University of Cape Town and boasts two decades of research experience in arid agricultural landscapes. His work has not only contributed to the scientific community but has also deeply impacted grassroots initiatives and indigenous communities dependent on natural resources for their sustainability and climate resilience.

Currently serving as the Global Co-Chair for the International Support Group (ISG) for the UN-designated International Year of Rangelands and Pastoralists (IYRP) in 2026, Dr. Samuels is at the forefront of advocating for sustainable rangeland management worldwide. His contributions extend beyond academia, playing a pivotal role in shaping South Africa's rangeland management policy and strategy.

Eleni Thrasyvoulou

Textile Exchange | Impact Data Senior Manager

Eleni is an Impact Data Senior Manager at Textile Exchange and sits within the Climate+ Impact team. Eleni joined Textile Exchange at the start of 2022 to lead the Impact Data function and build out Textile Exchange's impact data strategy. Her work focuses on impact modeling, supporting the industry with filling impact data gaps – through Life Cycle Assessment (LCA) projects, and developing an approach to modeling impacts beyond those typically captured in LCA studies – Textile Exchange's 'LCA+' approach.
Prior to joining Textile Exchange, Eleni was a Programme Manager within Burberry's Corporate Responsibility team. Before this, Eleni was a consultant in PwC's Sustainability and Climate Change team for six years and specialized in impact measurement and valuation.

Elisa Gavazza

ZDHC | Southern Europe and Quality Management Director

As Southern Europe Regional Director, Elisa is responsible for the representation and implementation of the ZDHC Roadmap to Zero Programme in Italy, France Spain and Portugal. In her role, Elisa focuses on increasing the awareness of ZDHC, related stakeholder engagement and scaling the uptake and implementation of ZDHC guidelines, platforms and solutions. She is also supporting ZDHC in building a long-term quality strategy for quality assurance.

Fiona Flintan

ILRI (International Livestock Research Institute) | Senior Scientist Rangelands and Pastoralism

Fiona is a distinguished Senior Scientist specializing in rangelands and pastoralism at the International Livestock Research Institute (ILRI), now stationed at the Alliance of Bioversity and CIAT in Rome. She has spent most of the past fifteen years living in Ethiopia and working in the East Africa region including Tanzania where for the last 10 years she has been providing support to pastoral communities to secure their land rights. With a remarkable background spanning agriculture, livestock, and climate change, Fiona's expertise has profoundly shaped research in sustainable pastoral systems in the region and beyond. Serving now as the Lead for the CGIAR Research Initiative on Livestock and Climate, she is at the forefront of tackling the intricate relationship between livestock production and climate dynamics. She is also the lead of new GEF-funded project implemented by International Union for Conservation of Nature and executed by ILRI that seeks to harness commercial sector finance for rangeland restoration through sustainable value chains.

Fiona is a global advocate for rangelands, participating in crucial initiatives such as the UN Decade of Ecosystem Restoration 2021-2030, the call for an International Year of Rangelands and Pastoralists (IYRP), the development of the first global rangelands atlas and active engagement with the Global Landscapes Forum. She played a pivotal role in coordinating the global Rangelands Initiative of the International Land Coalition (ILC) and continues to be an active supporter of the ILC as Council member representing CGIAR centers.

Frances van Hasselt

Mohair Grower & Designer

Frances van Hasselt is a designer and entrepreneur focusing on developing mohair textiles in South Africa. Raised on a mohair farm in the Karoo, van Hasselt has a deep affinity for this natural fibre. She has spent the last several years developing a business designed to elevate mohair to a more prominent status as one of the world's most ancient, exclusive fibres. Her role in creating an inclusive, sustainable supply chain specifically adapted to the eco-system of the South African textile industry earned her a Mandela Washington Fellowship.

Franklin Holley

Conservation International | Director, Sustsainable Fashion

Franklin Holley has over 20 years of experience in sustainable agriculture/sustainable sourcing, conservation programming, and community development spearheading diverse collaborations that result in better outcomes for all stakeholders in our agricultural systems. As Director of Sustainable Fashion at Conservation International, Franklin leads efforts to transform the production of raw materials in the fashion industry from approaches that deplete the land and degrade our environment to ones that offer positive solutions for people, nature, and climate. Prior to joining CI, Franklin was the Director of Food and Agriculture at the Keystone Policy Center, where she led multi-stakeholder food and agriculture initiatives focused on issues such as sustainable natural resource use, wildlife habitat and biodiversity, climate change, and farm labor. She has also held previous roles with the World Wildlife Fund, Southern Maryland Resource Conservation & Development, and the University of Tennessee Extension. Franklin has an MS in International Agricultural Development from the University of California, Davis and a BA in Cultural Anthropology from the University of Virginia.

Fred Werneck

Clarmondial | Co-Founder, Partner

Fred is a specialist in private investments in emerging markets and financial structuring, with over 20 years of experience across various markets and financial products. He co-founded Clarmondial with Tanja Havemann in 2010, to design and implement investment solutions that promote the sustainable management of natural resources. Former roles include Chief Investment Officer, fund manager and investment banking (M&A), resulting in broad experience in mainstream markets as well as impact investing, nature-based solutions and climate-related investments. Fred earned an MBA at London Business School, and a degree in Economics & Finance from IBMEC in Rio de Janeiro. Swiss and Brazilian, Fred is a native Portuguese speaker, is fluent in English and Spanish, speaks French and is learning German.

Gantulga Baatar

Guchin Gurviin Tuuchee Cashmere Herder Cooperative | Leader of the Herder Cooperative

Since 1996, Gantulga Baatar has worked in the animal husbandry sector for 27 years, and, for the past decade, has served as the leader of the Guchin Gurviin Tuuchee herder cooperatives.

Jeffrey Thimm

GOTS - Global Standard gGmbH | Organic Production Specialist

Jeffrey Thimm is an Organic Production Specialist with the Global Organic Textile Standard (GOTS), focused on supporting regenerative and resilient agricultural systems. He has over a decade of international experience in sustainable development in both public and private sectors. Jeffrey earned his BA at Beloit College, with a double-major in public health and environmental studies. He then trained and worked as a permaculture designer and teacher, and finally earned an MSC in Organic Agriculture and Food Systems at the University of Hohenheim.

Jock Menzies

Winterbourne | Wool Grower

Juan Pepper

Michell | Commercial Manager

Juan is a member of the board of directors of La Joya Mining SAC, President of the International Alpaca Association AIA, member of the board of the Alpaca Civil Association of Peru ASCALPE, and Commercial Director of Michell & Cia SA, the main alpaca textile conglomerate worldwide.
Specialized in international business and developing new markets in Asia, North America, Europe and the Middle East, and more than 30 years management Experience of high-performance teams for these markets.
Juan holds an MBA in International Business from the University of Philadelphia in the United States and is a graduate in Business Administration from Santa Maria Catholic University, Arequipa – Peru.

Julia Langenegger

Clarmondial | Associate

Julia is an Associate at Clarmondial, an independent investment advisory company, focused on creating practical, profitable and creative solutions for social and environmental businesses and their funders. She has five years of professional experience across three continents with a strong background in strategic business development and analysis. Before joining Clarmondial, she worked inter alia at a leading impact investment firm in Switzerland and a global fashion company. She holds a B.Sc. in International Hospitality Management from Ecole hôtelière de Lausanne and a M.Sc. in Responsible Management with a specialisation in sustainable businesses and human rights from the University of Geneva.

Katy Edwards

Sustainable Fibre Alliance | Marketing & Communications Manager

With an extensive marketing and communications background, Katy has over 8 years of experience in campaign coordination, project management and brand engagement across both B2C and B2B channels having worked with retailer brands and NGOs. As the Sustainable Fibre Alliance's Marketing & Communications Manager, Katy is responsible for all SFA's communications, both internally and externally, ensuring SFA members and stakeholders are well informed and kept up to date with any changes to the SFA Cashmere Standard.

Laura Ros

The Schneider Group | Group CEO

With over 25 years of experience in the fashion and textile industry, Laura has worked in most stages of the supply chain: from brands and retail all the way up to the very beginning of the textile process, spanning several countries in Europe and Asia Pacific. This background, together with a strong experience in strategy consulting, has convinced her of the importance to connect more closely nature and agriculture with textile products and brands, which is why she passionately supports the Schneider Group to stand for the values that will enable the whole industry to become more sustainable.

Louise Baker

United Nations Convention to Combat Desertification (UNCCD) | Managing Director of the Global Mechanism

Louise Baker is the Managing Director of the Global Mechanism of the United Nations Convention to Combat Desertification (UNCCD). With a career spanning over two decades in various roles within the United Nations and European Union, Louise has been instrumental in global efforts aimed at combatting land degradation, promoting sustainable land management and delivering on public health goals.

Originally from a rural farming community in the UK. Louise is at the forefront of innovative financing and resource mobilization efforts for land degradation neutrality contributing to the achievement of Sustainable Development Goal 15 – Life on Land. Her team are developing a pipeline of investable projects and programmes worldwide. She manages the Accelerator programme for the Great Green Wall for the Sahara and the Sahel Initiative, which involves the mobilization of up to USD 19 billion pledged during the One Planet Summit. She first joined the UNCCD as Coordinator of External Relations and Policy where she spearheaded efforts in policy development – (private sector/gender/drought/migration), advocacy and partnership development.

Prior to this role, she has been involved in high-profile public health campaigns on polio eradication and immunization, HIV/tuberculosis and tobacco control for the World Health Organization.

Marco Coetzee

Mohair South Africa

Marco qualified at a Chartered accountant in 2013. He worked for an audit company between 2011 and 2014, worked as a financial manager in the red meat industry for two years and then started his journey at Mohair SA on the 1st of April 2016, appointed as the financial manager. Only five years later, Marco progressed to lead the company forward as the general manager.

Marie-Therese Chaupin

Atelier-Laines d'Europe Association | Coordinator and Delegate

Marie-Thérèse Chaupin, coordinator and delegate for European relations of the Atelier-Laines d'Europe association since 1994, organizer of European meetings in the wool sector, creation of exhibitions "Wools of Europe", "Laine, de la toison to the finished product" support for wool valorization projects for groups of sheep breeders, artisans and textile designers "Discovering European wools" training for textile designers.

Monica Ebert

Australian Wool Innovation Limited | Business Development Manager Americas, Sports & Performance

Monica Ebert is a business development manager for The Woolmark Company focusing on the sports and performance category. Having done extensive work throughout the global wool industry, Monica has previously worked in South Africa and New Zealand working alongside wool growers. As an avid runner and a wool enthusiast Monica's current role is an ideal match for her passions helping brands realize the power of Merino wool in performance applications while achieving positive environmental outcomes.

Nathalie Ketterle

European Wool Association A.I.S.B.L

Nathalie Ketterle has been a passionate part-time sheep farmer for over 25 years now. After studying economics and working worldwide for an international bank, she gave in to her true passion – sheep and wool. At her ark-farm among other farm animals, she is breeding two rare indigenous sheep breeds, Alpine Stonesheep and Coburger Foxsheep. All their products are sold directly from farm to shop. Nathalie Ketterle is also the founder and head of "Kollektion der Vielfalt", an association of sheep breeders of rare indigenous sheep breeds in Germany. For almost 20 years they have been collecting, processing and selling their wool and woollen products together directly to the consumers from "sheep to shop". In 2018 the wool project of the Alpine Stonesheep became an EU model project of the European Commission within their program "Preparatory actions on EU plant and animal genetic resources in agriculture". For more than 10 years, Nathalie Ketterle has been involved with projects all over Europe to develop breeding programs, to establish action plans and to support sheep farmers, associations, regional governments, foundations, et cetera… to preserve the diversity of their indigenous sheep breeds in their typical landscape, to support and preserve old handcraft traditions and to give back value to European wool. In addition, since 2010 she is a member of the advisory board of ATELIER – laine d`Europe and since 2023 she is the vice-president of the European Wool Association A.I.S.B.L, an international non-profit association founded 2019 in Biella and registered 2022 in Belgium. The European Wool Association is dedicated to promoting European wool and wool products and increasing their value and that of sheep production.

Nigel Thompson

The Wool Company Biella

Born in Bradford, England, more than 30 years commercial experience in raw wool processing and sales treating wools from around the world, both in the United Kingdom and in Biella, Italy.

Biella was one of the textile manufacturing capitals but the crisis that stroke the sector has left the city in ruins and many of its people out of work.

There Nigel, one of the few raw wool experts in the world, created a new "sheep to shop" business model that benefits the farmers. His completely traceable and sustainable line of production keeps a dying industry alive and Europe woven together.

Pascal Gautrand

Le Collectif Tricolor | Founder at Made in Town and Initiator of the Tricolor Collective

Pascal Gautrand, graduate in fashion design and textile design, stands out for his passion for the textile-clothing industry. With a post-diploma from the French Fashion Institute in hand, he now works as a consultant and teacher in this dynamic field. His experience as the first resident of the "fashion design" section at the French Academy in Rome – Villa Medici in 2008 opened up new perspectives for research on local production. This is how he founded Made in Town, a platform dedicated to promoting know-how, which supports private and institutional players in the textile sector.
In 2018, Pascal Gautrand played a key role in initiating the Tricolor Collective, of which he holds the position of General Delegate. The Tricolor Collective is dedicated to promoting and supporting the restructuring of the French wool sectors. By highlighting traditional know-how, encouraging innovation and promoting collaboration between players in the sector, the Collectif Tricolor contributes to renewing and sustaining the French wool sector.(www.collectiftricolor.org).

Peter Hughes

Eurofins | BLC | Head of Sustainable Business Development

With more than 15 years of experience in sustainable development, Peter brings a wealth of expertise across various sectors. He has collaborated with private enterprises, public institutions, and non-profit organisations to establish a distinguished portfolio of programmes. His transformative contributions have made a significant impact in areas such as the food industry, government, and housing, where he has consistently led the way in sustainability initiatives, raised ethical standards, and advocated for a systems thinking approach.
In his current role as Head of Sustainable Business Development at Eurofins|BLC, he has been dedicated to advancing supply chain mapping, enhancing traceability, and ensuring compliance with global and UK legislative standards. Peter helps organisations in the apparel sector make measurable progress towards long term solutions in sustainability and effectively communicate the results. Peter facilitated the Animal Welfare sub group of the Leather Working Group from 2016 until 2022, growing the membership from inception to over 25 brand members.
Under his leadership, the BLC's sustainability efforts have reached new heights, fostering a promising and eco-conscious future for the apparel and footwear industry.

Philippa Grogan

eco-age | Sustainability Consultant: Fashion, Textiles & Policy

During my degree in Textile Design and Business Studies at Brighton Uni, a slight curveball led me to a series of block printing internships in Jaipur, India where I became obsessed with the environmental and social impacts of the fashion and textile sectors.
I've always loved drawing and design, but found equal enjoyment in complaining about the shocking state of the industry and trying to find solutions through a mix of traditional and more modern techniques. After finishing my 1st MDES degree, I did a MA degree and split time between various textile experiments in the UK and travelling around India, Sri Lanka, and Nepal, visiting factories and producers, from tiny, rural natural dyers and hand weavers to huge industrial manufacturers making garments for all our favourite (not!) fast fashion brands.

I've always loved drawing and design, but found equal enjoyment in complaining about the shocking state of the industry and trying to find solutions through a mix of traditional and more modern techniques. After finishing my 1st MDES degree, I did a MA degree and split time between various textile experiments in the UK and travelling around India, Sri Lanka, and Nepal, visiting factories and producers, from tiny, rural natural dyers and hand weavers to huge industrial manufacturers making garments for all our favourite (not!) fast fashion brands.

Ramon Cobo

Wool Dreamers & Mantexman | Founder

Ramón is 33 years old, he had been working in the textile industry for more than half his life. He define himself has a dreamer, sparked by a passion for natural fibers nurtured within him by his father from a very young age. The dream began with a vision of naturalfibers, especially wool, overtaking the ever-present synthetic materials. He envisioned conversations with longtime shepherds and ranchers, telling him how their view of wool had changed. He saw them pampering their sheep because they appreciated the value and importance of raising wool.

Rebecca Picallo Gil

FOUR PAWS International | Textiles & Mobilisation Campaigner

As an animal welfare campaigner in textiles at FOUR PAWS and a social anthropologist by education, I strive to work holistically in a collaborative approach with relevant stakeholders to enable sustainable and animal friendly solutions. Science and compassion are what is driving my work as a campaign manager and wool sheep expert at FOUR PAWS International. There is no easy answer to complex issues. That is why we want to highlight current best practice while aspiring the long-term goal – a world where animals are treated with respect and kindness.

Ronald Gerbeth

Suedwolle Group | Head of Certification and Sustainability

Ronald Gerbeth is the leader of the Certification and Sustainability team within Südwolle Group's innovation department Südwebs. Holding a master's degree in engineering, Ronald has dedicated his entire career to the worsted yarn industry. He has held diverse roles in sales, product development, and marketing. Today, he brings in his expertise to develop the company's vision to foster transparency along the textile supply chain and be a service provider and sparring partner for customers and partners.

Rosalie Mann

No more plastic foundation | Founder and President

Rosalie Mann, founder and President of No More Plastic Foundation, was celebrated as one of the 100 French Women of Culture in 2022. With unwavering passion, Rosalie has channelled her efforts towards amplifying awareness about the pernicious effects of plastic and microplastic pollution on our health, environment, and economy. Recognized for her audacity and commitment, she's contributed to eminent publications like VOGUE, ELLE, Le Monde and National Geographic. With impactful appearances on platforms such as TEDx, the UN World Ocean Day and the Women's Forum, she is a leading voice advocating change.

Sainbayar Sunduykh

Cashmere Herder Cooperative Association | Chairman

In 2009, Sainbayar Sunduykh received a Bachelor's in Environmental Monitoring and Assessment from the Mongolian University of Life Sciences. She then went on to receive a Master's in 2012 from the Mongolian University of Life Sciences.
From the years 2010 to 2023, Sainbayar was an Ecologist of ICI OCT Ltd. and then in 2023 became the Chairman for the Herder Cooperative Association.

Silvia Gambi

Solo Moda Sostenibile | Sustainable Fashion Consultant

Silvia Gambi is a journalist living in Prato, Europe's largest textile district. She grew up amidst factories, the smell of fabrics, the noise of looms: it is part of her DNA. Silvia's interest in sustainability started several years ago and she has been lucky enough to witness the path taken by many companies to approach this issue.

Silvia specialises in communication and sustainability. She helps companies build their responsibility strategy and communicate it with appropriate storytelling. She develops projects, creates connections.

In addition, Silvia provides training in companies and to students at fashion schools and university masters courses. She has taught sustainable fashion and communication at Polimoda, the University of Florence, the Master in Sustainability at the Bicocca University. Her courses vary in length, depending on requirements.

She also teaches the course in "Supply Chain Management" of the Master in Textile at the Galli Academy in Como.

Simon Goodall

Savory Institute| Large-scale projects and EOV Platform, Gestione Olistica Italia ETS ( Italian Savory Hub)| Founder and President

With a degree in Farm Management and 27+ years of hands-on experience in managing large sheep, cattle and deer stations both in Argentina and New Zealand, plus his 5+ years of experience in Holistic Management consulting in Italy, Egypt and Portugal and extensive lifelong travelling around the world both by land and sea allow him a unique insight into the diverse ecoregions, different production systems and unique cultural landscapes.

He is well-versed in Holistic Management as well as experienced in wool and animal production, providing the capacity to lead the Italian Savory Hub, Gestione Olistica Italia ETS, in bringing about change in the region to implement regenerative practices and monitor outcomes through Ecological Outcome Verification.

You can normally find Simon in Northern Italy together with his wife and three daughters unless he is away in the field on a Savory project doing EOV Monitoring or HM Training/Consulting.

Simone Sommer

Independent sustainability consultant, academic lecturer and change agent

Simone is a trained fashion designer with +15yrs industry experience from luxury to casual premium fashion. A further education as hand weaver led her to appreciate wool even deeper as a natural performance fibre and to start digging into the question why there's not more European wool being used in fashion. Her former position as product innovation lead for a German casual fashion brand as well as her commitment in different NGO projects led her to seeking a platform to help promoting wool and other European animal fibers in a sustainable and transparent way. Simone is currently working in different projects that involve regional natural fibers, circularity and design. She also teaches material innovation & future technology at the school of design at Pforzheim University, Germany.

Smita Bait

ZDHC | Fibers and Materials Technical Manager

Smita is a Subject Matter Expert in the Fibres & Materials Competence Centre of the ZDHC Roadmap to Zero Programme. She is responsible for developing the Fibres and Circularity Strategy and creating and updating industry guidelines for various fibres and materials.

Stefano Vitali

Vitali Tessitura

Tone Skårdal Tobiasson

Union of Concerned Researchers in Fashion | Board Member

Tone Skårdal Tobiasson, journalist and author, went from managing editor of fashion magazines to become a founder of NICE (Nordic Initiative Clean & Ethical) Fashion. Currently, she is responsible for dissemination in the following projects: Amazing Grazing, WOOLUME, LASTING, CHANGE and Wasted Textiles. She has written and co-authored several books, the latest is Local, Slow and Sustainable Fashion: Wool as a Fabric for Change. She is a contributor to several publications and is a Board member of the Union of Concerned Researchers in Fashion.

Una Jones

Sustainable Fibre Alliance | CEO & Founder

Born in Mongolia, and now living in the UK, Una worked as a market analyst in a diverse set of industries before founding the Sustainable Fibre Alliance in 2015. Her motivation for starting the SFA was to stop the destruction of her homeland and improve the livelihoods of Mongolian herders, ensuring that herding remains a viable option for future generations. Una's passion is identifying opportunities to enhance and widen the SFA's positive impact across cashmere-producing regions and along the extended cashmere supply chain.

Vandandorj Sumiya

Sustainable Fibre Alliance | Mongolia Country Coordinator

As the Country Coordinator in Mongolia for the Sustainable Fibre Alliance (SFA), Vandandorj Sumiya works closely supporting herding communities and cooperative leaders in the cashmere sector. He is an ecologist and obtained both a bachelor's and master's degree from the National University of Mongolia and started his research career with the Institute of Meteorology, Hydrology and Environment in Mongolia. Continuing his studies at the University of New South Wales (UNSW) in Sydney, Australia, Vandandorj received his second master's degree on the effect of grazing and climate change on ecosystem services in Australian drylands. Returning to Mongolia, he joined the Wildlife Science and Conservation Centre of Mongolia, where he coordinated a wetland research and conservation project in Khurkh and Khuiten River Valleys Nature Reserve in north-eastern Mongolia for about 5 years, before joining the SFA as the manager for Monitoring, Evaluations and Learning (MEL).

Veronica Bates Kassatly

Independent Analyst

Veronica Bates Kassatly is an independent analyst of sustainability claims in the global apparel sector. A former World Bank analyst and well-renowned for her wide-ranging and no-nonsense research, she is a leading voice in the ever-evolving field of fashion sustainability. Co-authored works with the Geneva Center for Business and Human Rights include: 'The Great Greenwashing Machine' Parts 1&2; 'The Rise of Lifecycle Analysis and the Fall of Sustainability'; and most recently 'Amplifying Misinformation – The Case of Sustainability Indices in Fashion'.

Vesna Todorovski

Project Development Manager

Author of "Serbian wool project" through the re-start and re-vitalization of the former wool women's cooperative "Sirogojno" where the members knitted and export their local wool sweaters. The current project now aims at also spreading knowledge about green innovation, gender equality and about the therapeutic effects of wool and knitting and their importance for the rural community development. The location of the project is Western Serbia- Zlatibor district, Municipality of Čajetina – future twin of commune di Biella.

After successful 20 years career as Professor of Geography in High school of Design in Belgrade, in 2010,

started as a grassroots developer in cluster development, establishing new business model, trying to re-create old skills with a long economic history, empowering of craftsmen in the WBC /West Balkancountries/.  Member of the First Swiss economy mission in Kosovo* .
Virtual ticket: US$ 50 + 22% VAT
In-person ticket: US$ 500 + 22% VAT
20% early-bird discount available for bookings before 30 June 2023