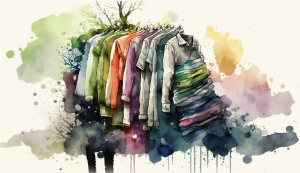 Prato Textile Recycling Tour | September 26&27
Prato, located in the heart of Italy, has established itself as a thriving hub for the textile recycling industry. Renowned for its rich textile heritage, Prato has embraced sustainability and innovation, transforming itself into a global leader in textile recycling. With its robust infrastructure and cutting-edge technology, the city has created a sophisticated system that efficiently collects, sorts, and processes textile waste, converting it into high-quality recycled fibers and fabrics. Prato's commitment to circular economy principles has attracted a vibrant community of textile manufacturers, designers, and entrepreneurs, who collaborate to drive forward sustainable fashion practices and contribute to a greener future. The city's dedication to textile recycling has not only revitalized its economy but also set an inspiring example for the rest of the world.
During this two-day excursion, you will get to see different aspects of the natural fibre recycling industry.
Lunch, dinner, bus travel and hotel are included within the ticket price. Once you purchase the Prato excursion ticket, we will automatically book you a single room in our designated hotel in Prato.
Cost: 300 US$ plus 22% VAT
Limited spaces, please book ahead of time to avoid disappointment.
Hourly Schedule
26 September 2023
07:00

-

13:00

Bus to Prato
13:00

-

14:00

Lunch

Victory Caffè
14:30

-

16:30

Recycling mill visit

Manteco
17:00

-

18:30

Visit of TIL Laboratory
19:00

-

19:40

Check-In

Hotel Wall Art
20:00

-

22:00

Dinner

Osteria su Santa Trinita
27 September 2023
08:30

-

09:00

Bus pick-up at Hotel
09:00

-

10:30

Recycling Workshop
10:30

-

11:00

Coffee
11:00

-

13:00

Visit of textile museum
11:00

-

13:00

GRS Working Group Meeting
13:00

-

15:00

Lunch
15:00

-

19:00

Bus to Biella