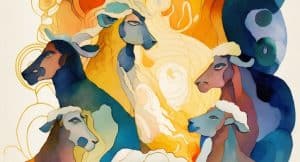 Roundtable for European Animal Fibres Initiatives
Roundtable for European Animal Fibres Initiatives
There are many wonderful projects and initiatives across Europe with the goal of locally grown wool and other animal fibres no longer going to waste. There are many challenges to shearing, sorting, collecting and processing of these fibres; but fortunately, there are also many ideas and solutions as well. Up to date, most initiatives have worked in isolation, but not anymore. This round table will bring all European actors together to exchange knowledge, learnings, and work on joint solutions.
If you are currently working on a local wool or other animal fibre project based in Europe or planning to start one, then this roundtable is for you to gain valuable insights and visibility.
This session will be moderated by Simone Sommer, Camille Herry and Nigel Thompson.
Hourly Schedule
29 September 2023
09:00

-

10:00

PartI: The European animal fibre landscape: challenges and opportunities

Impulse keynotes from five different speakers.
10:00

-

10:15

Break
10:15

-

11:15

Part II: Filling the gaps: how to get the wool from the farm to the market.

Panel discussion with representatives of networks, associations and initiatives.
11:15

-

11:45

Q&A
11:45

-

12:00

Closing
Marie-Therese Chaupin

Atelier-Laines d'Europe Association | Coordinator and Delegate

Marie-Thérèse Chaupin, coordinator and delegate for European relations of the Atelier-Laines d'Europe association since 1994, organizer of European meetings in the wool sector, creation of exhibitions "Wools of Europe", "Laine, de la toison to the finished product" support for wool valorization projects for groups of sheep breeders, artisans and textile designers "Discovering European wools" training for textile designers.

Nathalie Ketterle

European Wool Association A.I.S.B.L

Nathalie Ketterle has been a passionate part-time sheep farmer for over 25 years now. After studying economics and working worldwide for an international bank, she gave in to her true passion – sheep and wool. At her ark-farm among other farm animals, she is breeding two rare indigenous sheep breeds, Alpine Stonesheep and Coburger Foxsheep. All their products are sold directly from farm to shop. Nathalie Ketterle is also the founder and head of "Kollektion der Vielfalt", an association of sheep breeders of rare indigenous sheep breeds in Germany. For almost 20 years they have been collecting, processing and selling their wool and woollen products together directly to the consumers from "sheep to shop". In 2018 the wool project of the Alpine Stonesheep became an EU model project of the European Commission within their program "Preparatory actions on EU plant and animal genetic resources in agriculture". For more than 10 years, Nathalie Ketterle has been involved with projects all over Europe to develop breeding programs, to establish action plans and to support sheep farmers, associations, regional governments, foundations, et cetera… to preserve the diversity of their indigenous sheep breeds in their typical landscape, to support and preserve old handcraft traditions and to give back value to European wool. In addition, since 2010 she is a member of the advisory board of ATELIER – laine d`Europe and since 2023 she is the vice-president of the European Wool Association A.I.S.B.L, an international non-profit association founded 2019 in Biella and registered 2022 in Belgium. The European Wool Association is dedicated to promoting European wool and wool products and increasing their value and that of sheep production.

Nigel Thompson

The Wool Company Biella

Born in Bradford, England, more than 30 years commercial experience in raw wool processing and sales treating wools from around the world, both in the United Kingdom and in Biella, Italy.

Biella was one of the textile manufacturing capitals but the crisis that stroke the sector has left the city in ruins and many of its people out of work.

There Nigel, one of the few raw wool experts in the world, created a new "sheep to shop" business model that benefits the farmers. His completely traceable and sustainable line of production keeps a dying industry alive and Europe woven together.

Pascal Gautrand

Le Collectif Tricolor | Founder at Made in Town and Initiator of the Tricolor Collective

Pascal Gautrand, graduate in fashion design and textile design, stands out for his passion for the textile-clothing industry. With a post-diploma from the French Fashion Institute in hand, he now works as a consultant and teacher in this dynamic field. His experience as the first resident of the "fashion design" section at the French Academy in Rome – Villa Medici in 2008 opened up new perspectives for research on local production. This is how he founded Made in Town, a platform dedicated to promoting know-how, which supports private and institutional players in the textile sector.
In 2018, Pascal Gautrand played a key role in initiating the Tricolor Collective, of which he holds the position of General Delegate. The Tricolor Collective is dedicated to promoting and supporting the restructuring of the French wool sectors. By highlighting traditional know-how, encouraging innovation and promoting collaboration between players in the sector, the Collectif Tricolor contributes to renewing and sustaining the French wool sector.(www.collectiftricolor.org).

Ramon Cobo

Wool Dreamers & Mantexman | Founder

Ramón is 33 years old, he had been working in the textile industry for more than half his life. He define himself has a dreamer, sparked by a passion for natural fibers nurtured within him by his father from a very young age. The dream began with a vision of naturalfibers, especially wool, overtaking the ever-present synthetic materials. He envisioned conversations with longtime shepherds and ranchers, telling him how their view of wool had changed. He saw them pampering their sheep because they appreciated the value and importance of raising wool.

Simon Goodall

Savory Institute| Large-scale projects and EOV Platform, Gestione Olistica Italia ETS ( Italian Savory Hub)| Founder and President

With a degree in Farm Management and 27+ years of hands-on experience in managing large sheep, cattle and deer stations both in Argentina and New Zealand, plus his 5+ years of experience in Holistic Management consulting in Italy, Egypt and Portugal and extensive lifelong travelling around the world both by land and sea allow him a unique insight into the diverse ecoregions, different production systems and unique cultural landscapes.

He is well-versed in Holistic Management as well as experienced in wool and animal production, providing the capacity to lead the Italian Savory Hub, Gestione Olistica Italia ETS, in bringing about change in the region to implement regenerative practices and monitor outcomes through Ecological Outcome Verification.

You can normally find Simon in Northern Italy together with his wife and three daughters unless he is away in the field on a Savory project doing EOV Monitoring or HM Training/Consulting.

Simone Sommer

Independent sustainability consultant, academic lecturer and change agent

Simone is a trained fashion designer with +15yrs industry experience from luxury to casual premium fashion. A further education as hand weaver led her to appreciate wool even deeper as a natural performance fibre and to start digging into the question why there's not more European wool being used in fashion. Her former position as product innovation lead for a German casual fashion brand as well as her commitment in different NGO projects led her to seeking a platform to help promoting wool and other European animal fibers in a sustainable and transparent way. Simone is currently working in different projects that involve regional natural fibers, circularity and design. She also teaches material innovation & future technology at the school of design at Pforzheim University, Germany.

Vesna Todorovski

Project Development Manager

Author of "Serbian wool project" through the re-start and re-vitalization of the former wool women's cooperative "Sirogojno" where the members knitted and export their local wool sweaters. The current project now aims at also spreading knowledge about green innovation, gender equality and about the therapeutic effects of wool and knitting and their importance for the rural community development. The location of the project is Western Serbia- Zlatibor district, Municipality of Čajetina – future twin of commune di Biella.

After successful 20 years career as Professor of Geography in High school of Design in Belgrade, in 2010,

started as a grassroots developer in cluster development, establishing new business model, trying to re-create old skills with a long economic history, empowering of craftsmen in the WBC /West Balkancountries/.  Member of the First Swiss economy mission in Kosovo* .